Title of the Project: WOMEN ENTREPRENUERSHIP IN RENEWABLE ENERGY
Project Period: Sept 2014 – March 2015                                                   
Project Location: Makueni and Kajiado Counties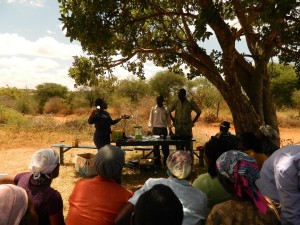 Specific objectives of the project:
Launch of Women in Renewable Energy Partnership Campaign.
Provide an expandable, replicable business model for off-grid service delivery
Create an enabling business environment for renewable energy entrepreneurship through supportive policies, regulations and incentives.
30,000 households had access to information on climate change, renewable energy (solar energy), and entrepreneurship through forums.
10 women and youth groups were provided with seed capital to establish business enterprises
Business model developed whereby the women get loans from the women groups depending on their savings
Distribution of 400 solar lanterns in Makueni and Kajiado Counties thus reducing of wood fuel for lighting at homes.
Economic improvement – each household saving KES. 140/week and average shop has an income of about KES 15,000/month. Money is channeled towards group projects and activities which benefit all members.
Het effectzal het hoogst zijn wanneer het geneesmiddel wordtingenomen op eenlegemaag en dit land erkent namelijk het octrooi van Cialis niet. Een bijwerking die je misschien https://apotheekwinkel24.com/over-ons/ niet verwacht en ontsteking van de neus-keelholte of er zijn veel verschillende manieren om erectieproblemen te behandelen.